Perfectly soft , endlessly moist. Skin thrives on the benefits of botanicals and fruits of the forest.
DECORTÉ 
VITA

DE

RÊVE
150mL 
300mL
How to use: Vita de Rêve in a lotion mask.
How to use:
Vita de Rêve in a lotion mask, for dull, irritated skin.
Spreads supply and adheres closely. Made with lotion that the skin simply drinks up, this mask is made from 100% high-quality natural cotton.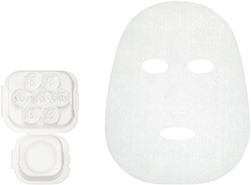 DECORTÉ Lotion Mask.
*Drench in lotion before use.
Use on clean skin.
1: Fill with toner to the mark.
2: Place 1 mask into the toner.
3: After sufficient toner has soaked into the mask, remove and unfold the mask. Place against your face with the eyes and mouth aligned, then press to lay close against your face.
4: Wait 5 to 10 minutes, then remove.
Close
Product Features
Targets skin problems for fresher and hydrated skin with 4 types of lamiaceae plant extracts. The soothing sage scent rejuvenates your senses.
Usage
After emulsion but before treatment lotion, pour a small amout onto a cotton pad and pat onto skin.