Mix the shades to create a professional graduation that gives depth to your cheeks.
COSME DECORTÉ  AQ MW
Blend

Brush
6 Types Each $81
<Refills>6 types 4,000yen each(excluding tax)
<Sold separately>Face Brush 1,500yen(excluding tax)
How to use: Detailed instructions for Blend Blush
How to use: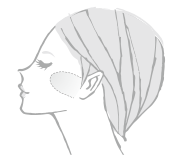 Apply lightly and gently, slightly askance, from the centre of your cheek to your ear.

Draw the custom brush over the product surface 1-2 times to pick up all 4 colours,
check the colour coverage on the back of your hand, then apply in gentle strokes.
*You will get a more beautiful finish by drawing spirals lightly with the brush,
working from the centre to the outside of the cheek.
Close
Product Features
The unique feature of this eye shadow palette is that you start applying the colors from the darkest o the lightest color(bottom to top).
Because the texture and hues of the four base colors match, by overlapping the 4 colors, you can create a clear color with a beautiful graduation.