Create a chic, outstanding impression with 4 layers of gradation eye color made with different textures.New color combinations incorporating dark tones to create smoky, easy-to-coordinate colors.
COSME DECORTÉ  AQ MW
Gradation

Eyeshadow
15 Colors Each  $82
How to use: Detailed instructions for Gradation Eyeshadow
How to use:

Use from the shading colour (the darkest colour) for beautiful gradation with depth and radiance.
Apply an appropriate amount to your eyelid in order of 1, 2, 3, 4.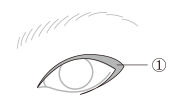 1: Shading colour
Apply with fine applicator tip (A) along the crease of the upper eyelid, from the inner to the outer corner, at the width of the applicator.
Apply to the lower eyelid gradually, from the outer corner about one third of the way along.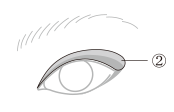 2: Accent colour
Blur with the fine applicator tip (B) onto the lower half of the brow bone, layering slightly over the gradation colour.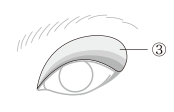 3: Highlighter colour
Blur onto the upper half of the brow bone with the thick brush, layering slightly over the accent colour.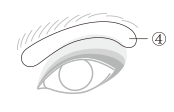 4: Glow colour
Blur lightly along the brow bone from just below the inner corner of the brow to below the outer corner, using your finger or the thick applicator tip, layering slightly over the highlighter colour.
Close
Product Features
For eyes that gleam with depth and tone, by layering powders each with different textures.
Clear and vivid gradation. Creates shading for your eyes with exquisite balance, with each color and texture beautifully paired.
Abase that gently melds to your skin with hydrated oils and emollients. Long-lasting coloring, with no clumps.