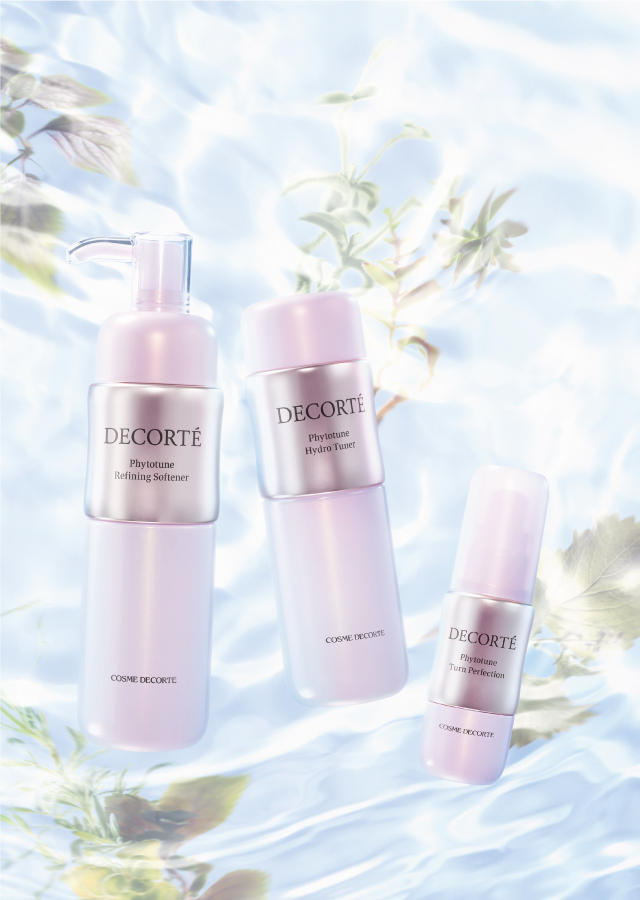 Line Concept
THE SUPPORTING INGREDIENT:
DECORTÉ HERBAL COMPLEX
Three specially selected herbs are incorporated into PHYTOTUNE's formula
to enhance metabolism, improve circulation and promote purification.

Rose Hip Oil
Contains large amounts of essential fatty acids linoleic acid and linolenic acid to boost skin's power for renewal.

Rosemary Extract
An invigorating antioxidant that provides skin with anti-ageing effects and blood-circulation boosting benefits.

Perilla Leaf Extract
A Japanese herb known for its anti-inflammatory and purification effect. Contains the antioxidant carotence. Helps cleanse skin.
THE EXTRAS FOR BETTER RESULTS
Helps deliver active ingredients while restoring skin's barrier function.
BIOIDENTICAL
INGREDIENTS
Ingredients with structural or functional similarities to substances found in the body to enhance PHYTOTUNE's gentleness and skin affinity.
NATURAL
FRAGRANCES
A freshing fragrance of delicate sweet rose, sweet pea, lavender and herbal notes delivers stress-relieving aromatherapeutic benefits each time you use PHYTOTUNE, bringing you a sense of calmness.
Paraben free, anti-irritation. Ideal for sensitive skin.
Perfecting skin's balance for skin with minimised pores, superb moisture and translucency.