The rich, luxurious moisture of avocado oil. Melts lightly into the skin, leaving skin plump and soft.
COSME DECORTÉ 
Prime

Latte
150mL  $68
300mL $110
How to use: How to get perfect, milky skin
How to use:
Directly after washing your face, massage into your skin with a cotton pad. Improves absorption of subsequently used skin care products.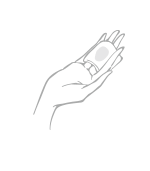 How much to use Pump twice onto a cotton pad.
First, apply over the whole face.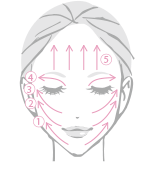 1-3: Lightly draw your face upward
4: Gently
5: After repeating on the right hand side, draw upward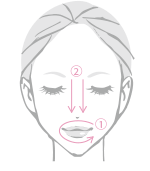 1-2: Massage
Close
Product Features
Skin-softening milk that works from the inside. Skin stays moisturized and hydrated long after use. Also supports barrier function, for skin that is resistant to dryness and roughness.
Improves absorption and boosts effectiveness of subsequent treatment lotion products.
Cares for skin that easily becomes imbalanced due to stress or lack of moisture. Improves balance between oil and hydration, leading to bright and smooth skin with less - visible pores.
Non - sticky and easily absorbed by the skin.
Usage
Before applying lotion, add two pumps of product to a cotton pad and smooth onto skin.